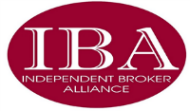 Ira Blumenthal is proud to serve the Independent Broker Alliance as its Executive Director.
You can reach Ira at IraBlumenthal@IBAfoodservice.com or at 678-797-9199. Please visit our website ibafoodservice.com.
The Independent Broker AllianceThe Independent Broker Alliance (IBA) was established in July of 2010 as an Alliance of Independent Foodservice sales agencies and marketing professionals dedicated to the mutual enrichment and enhancement of our business and the Foodservice industry as a whole. IBA provides a unique and professional network of highly motivated independent entrepreneurs with proven achievements and effective working relationships, serving and representing vendor partners who are proven quality-cost producers, on an account specific basis, across all market segments. We provide our vendor partners current, timely communication, profitable high volume opportunities and growth. We apply global strategies to deliver local results. IBA is a group of 22 like-minded companies committed to independence, maintaining strong local relationships, and producing consistent results through entrepreneurial spirit. We share a commitment to results, quality service and growth through aggressive strategies, and on continued investment in our business, people and technology.